A SHARED
Future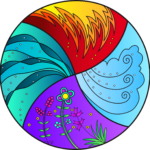 CEPI &
UINR


Objectives
Understand the possibilities, pitfalls, and complexities of implementing two-eyed seeing within a long-term intersectoral partnership focused on human-Land health.
Foster reflexivity, co-learning, and reconciliation within CEPI, by deepening CEPI members' understanding of two-eyed seeing, and strengthening their (our) capacity and commitment to enact two-eyed seeing.
Support interested L'nu Communities in Unama'ki, and within CEPI, to imagine (through two-eyed seeing) next steps towards renewable energy development
Consider gendered dimensions of research within the context of CEPI. As our project Elder told us, in L'nu culture and communities, gender was not typically an attribute or identity marker that was central to co-learning, and explained that rather than gender, 'gifts' of an individual was a more salient factor in a person's identity and interrelations. We will explore how a culturally-relevant sex and gender-based analysis fits within the context of CEPI and our Elder's teaching.