Post-Doctoral Fellows:
Chad Walker
Post-Doctoral Fellow
Queen's University, Kingston, Ontario – Sup. Dr. Heather Castleden
Chad is a white settler who was raised in the traditional territory of the Haudenosaunee and Ojibway/Chippewa (now St. Thomas, Ontario). After graduating with a Bachelor's degree in Environmental Policy and Analysis at Bowling Green State University in 2010, Chad went on to Western University where he completed his MA and PhD degrees in Geography (Environment and Sustainability) under the supervision of Dr. Jamie Baxter. As a SSHRC Doctoral Fellow, he studied wind energy policy and local development outcomes in non-indigenous rural communities in Ontario and Nova Scotia. His expertise in renewable energy policy and development, and passion for environmental justice is well served for his role within the A SHARED Future Program where he works with Dr. Heather Castleden to study Indigenous leadership in renewable energy development within Canada.
---
Sarah Rotz
Post-Doctoral Fellow
University of Guelph, Guelph, Ontario – Sup. Dr. Heather Castleden
Sarah currently works at the Department of Geography, University of Guelph. Sarah does work in Critical Theory, Political Ecology, and Critical Mixed Methods Research at the interdisciplinary intersection of human-environment relations (socio-ecologies), with a focus on land and food studies. Their doctoral research, completed in 2017, is 'Digging into Industrial Food Systems: A Study of Socio-Ecological Diversity in Conventional Agriculture.' Sarah is interested in joining the A SHARED Future program as a Post-Doctoral Fellow for the 2018-2019 year.
---
Doctoral Candidates & Students: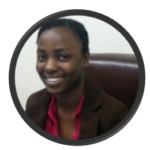 Priscilla Apronti
PhD Student
Queen's University, Kingston, Ontario – Sup. Dr. Heather Castleden
Priscilla Apronti is a PhD student under the supervision of Heather Castleden at Queen's University. She recently completed a Master of Environmental Studies degree at Queen's. She has background in geography, development, sustainability and environmental studies and is currently investigating corporate social responsibility within the extractive industry using the environmental justice perspective and framework.
---
Jordan Carlson
PhD Student
Queen's University, Kingston, Ontario – Sup. Dr. Warren Mabee
Jordan is a white settler PhD student at Queen's University, who grew up on the traditional territory of the Lheidli T'enneh First Nation in Prince George, British Columbia. He completed his Bachelor's of Science degree in physics (minor in international studies) from the University of Northern British Columbia and a Master's of Environmental Studies from Dalhousie University, where he was supervised by Dr. Michelle Adams. Jordan brings an interdisciplinary understanding of renewable energy technologies and energy policy to the A SHARED Future team. He is supervised by Dr. Warren Mabee, with Dr. Heather Castleden of A SHARED Future sitting on his committee.
---
Sophy Chan
PhD Candidate
Queen's University, Kingston, Ontario – Sup. Dr. Jeff Masuda
Sophy is a sport sociologist and budding urban geographer interested in studying the intersection between sport mega-event legacies, housing rights, environmental justice, and the Right to the City. Currently, her research interests revolve around Olympic Games legacies as they pertain to environmental protection and sustainability and how they have touched down in informal and low-income neighbourhoods called favelas, in Rio de Janeiro. In the spring of 2018, she will be (briefly) relocating to Rio de Janeiro to conduct her fieldwork. Sophy will contribute to the A SHARED Future program through the exploration of Sex and Gender-Based Analysis (SGBA) as it is applied in renewable energy contexts.
---
Mary Beth Doucette
PhD Candidate
Cape Breton University, Sydney, Nova Scotia

Mary Beth is a Mi'kmaw who has excelled as a scholar, obtaining a SSHRC Canada graduate scholarship during her graduate studies at CBU. Her graduate research in the MBA focused on community economic development in First Nations, examining the role of cultural tourism. She engaged in primary research with Elders and band administrators at Membertou in regards to a proposed Heritage Park. She is a dedicated community volunteer which, combined with her background in industrial engineering and community economic development, made her a strong addition to the management group at Membertou as Director, Quality Assurance and ISO Compliance. Mary Beth joins the A SHARED Future team as a PhD trainee at Cape Breton University, and will fulfill the role of graduate student representative on the Executive Committee within the Programmatic Steering Committee.
---
Erica Phipps
PhD Candidate
Queen's University, Kingston, Ontario – Sup. Dr. Jeff Masuda
Motivated by her interest in Equity-focused Knowledge Translation (EqKT) and its potential to open up new solution pathways to the complex challenges that lie at the health-environment interface, in 2015 she embarked upon PhD studies in health promotion at Queen's University, with Dr. Jeff Masuda as her advisor and supported by a Vanier scholarship. Her interests are focused on the exploration of EqKT practice and its impact on intersectoral collaboration, a research question that she will pursue within a real-world project called RentSafe, a CPCHE-led initiative that seeks to address housing-related health risks affecting low-income tenants. Erica will contribute to the A SHARED Future program's eqKT components and serve as a valuable resource to other team members as they work towards incorporating eqKT in their individual projects.
---
Master's Candidates
Emily Beacock
Master of Environmental Studies Candidate
Dalhousie University, Halifax, Nova Scotia – Sup. Dr. Debbie Martin

Emily is currently completing her Master of Environmental Studies at Dalhousie University, where she is working with Dr. Debbie Martin and the NunatuKavut Community Council to explore community- and culturally-appropriate renewable energy alternatives to diesel. She is interested in exploring the intersections of nature, well-being, and decolonization, especially how issues of environmental degradation, climate change and dispossession influence Indigenous community, governance and well-being. Emily is excited to do research that supports community resurgence, empowerment and sustainability, and to help find real solutions for communities in energy crisis.
---
Chantal Francour
Master of Arts – Geography Candidate
Western University, London, Ontario – Sup. Dr. Chantelle Richmond
Chantal has just finished up her Undergraduate Degree in Geography at Western University and will be starting her Masters there in the fall. She spent last summer working for the Ministry of Agriculture, Food, and Rural Affairs but is looking forward to doing more research this upcoming summer. She completed an undergraduate thesis on Indigenous Cartography this year which introduced her to a whole new side of geography that she didn't know existed. Through her thesis, her passion for Indigenous affairs grew and she cannot wait to see what she can do in her Masters to help communities.
---
Brianna Poirier
Master of Science – Applied Human Nutrition Candidate
University of Guelph, Guelph, Ontario – Sup. Dr. Hannah Tait Neufeld

Brianna is currently completing a Master of Science degree in Applied Human Nutrition at the University of Guelph. While completing a Bachelor's degree in Health Studies at Queen's University, Brianna developed an interest in food security and sustainability. During her time at Queen's, she worked with a community partner to tailor an online activity tool to the Kingston community. This experience fueled her desire to work in communities towards positive change. Broadly, Brianna's research interests relate to the impact social determinants of health have on population health trends and inequalities. Specifically, her area of focus is on how local environments and food choice shape one's health and the ways in which community-based interventions can impact these decisions. Brianna has always been passionate about Indigenous health and is thrilled to have the opportunity to work on this project. She hopes that her portion of the proposed research will assist in sharing the community of T'Sou-ke's achievements and the health impacts of their successes as a solar intensive community.
---
Undergraduate Students
Elissa Bozhkov
Honours Bachelor of Science (Complete) – Environmental Science
Queen's University, Kingston, Ontario – Sup. Dr. Heather Castleden

Elissa completed her Bachelor of Science (Environmental Science) Degree (with Honours) at Queen's University. For her Honours Thesis project, she worked under the supervision of Dr. Heather Castleden through A SHARED Future, and sought to explore what 'reconciliation and healing' mean in the context of the International Institute for Sustainable Development – Experimental Lakes Area.